It's Wildfire Season in Canada...
Generally, the forest fire season in Canada runs from April through to October. The most fires and the largest areas burned happen in June, July, and August. During a typical year there are over 9,000 forest fires in Canada, burning an average  25,000 sq/km.
Wildfire smoke is a mixture of gases and fine particles from burning trees and other plant materials. This smoke can hurt your eyes, irritate your respiratory system, and worsen chronic heart and lung diseases.
The particulate matter (PM) in wildfire smoke poses the biggest risk to the public's health.  Particulate matter is the sum of all solid and liquid particles suspended in air many of which are hazardous. This complex mixture includes both organic and inorganic particles, such as dust, pollen, soot, smoke, and liquid droplets.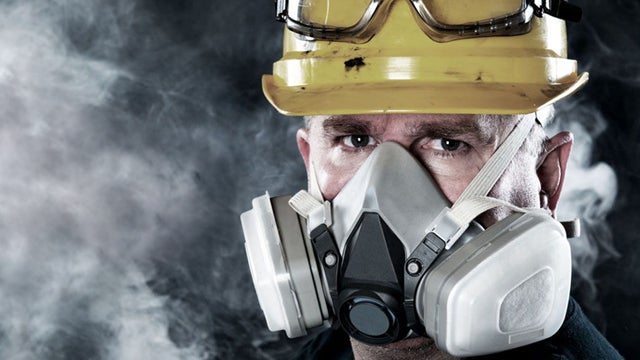 Symptoms
Watery or dry eyes
Coughing, wheezing, scratchy throat or irritated sinuses
Headaches
Shortness of breath or lung irritation
Irregular heartbeat, chest pain or fatigue
Prevention
Limit your exposure to the smoke
Stay indoors 
Drink plenty of water
Use the correct Personal Protection 
There may be situations that require workers such as health care professionals, first responders, and other essential service workers to be in closer proximity to moderate levels of smoke.
One strategy to help protect these workers is to create a "clean air refuge" with a portable HEPA filtration unit. Keeping windows and doors closed within the refuge area will reduce the ambient smoke.
In some circumstances, personal protective equipment such as respiratory protection may be necessary when workers are exposed to moderate to high levels of smoke.
Smoke Exposure Info for Workers - Alberta Health Services
https://www.albertahealthservices.ca/assets/news/ev/ne-ev-wildfire-fmm-smoke-exposure-info-for-workers.pdf
Respiratory Protection - Work Safe B.C.
https://www.worksafebc.com/en/health-safety/tools-machinery-equipment/personal-protective-equipment-ppe/types/respiratory-protection